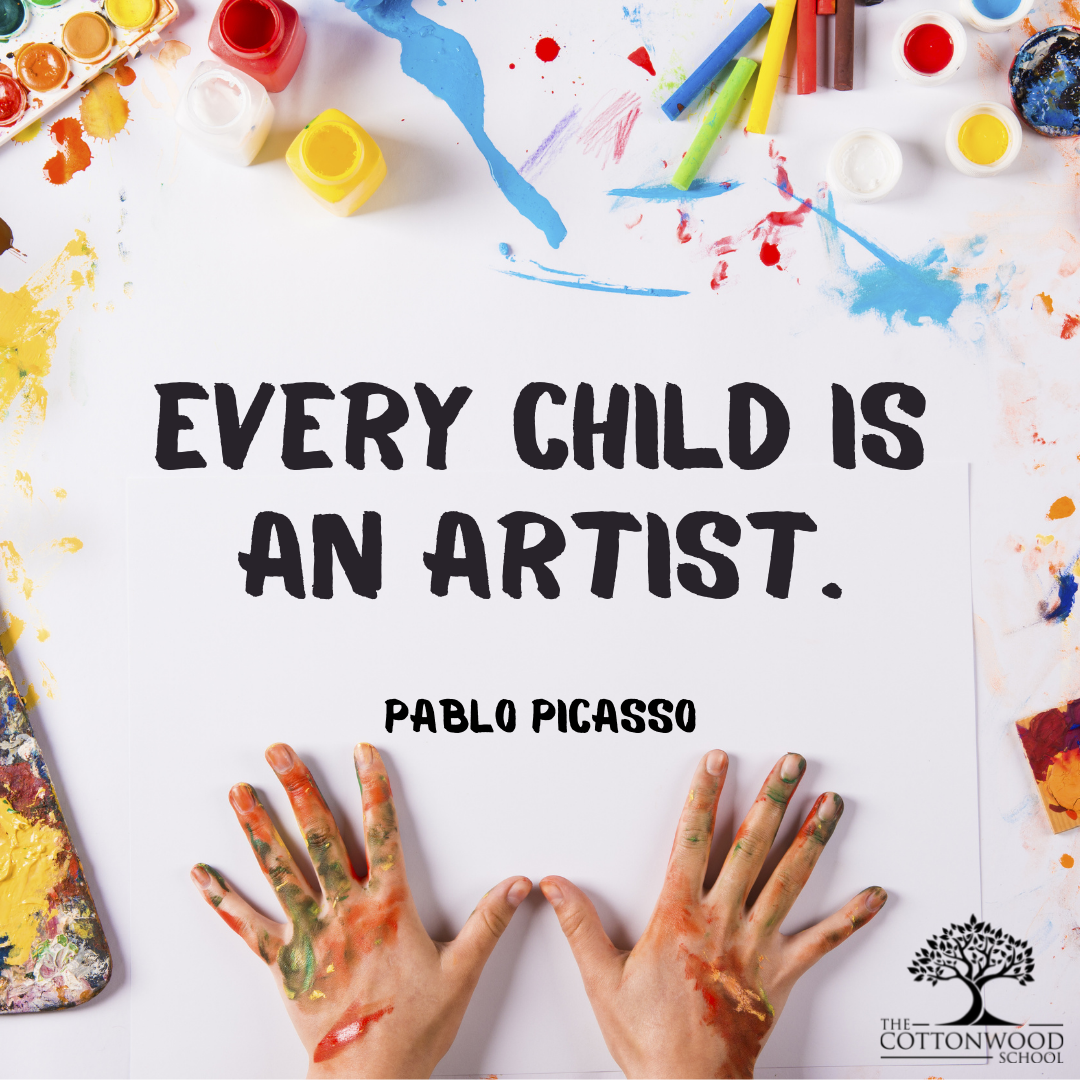 Our kids doodle and draw, they paint and they craft… they make art. Even if it isn't part of your curriculum or daily work in your home classroom, our kids create. They are pre-wired to be creative. They make things, lots and lots of things, and even more accumulates around your house because, well, your home is their classroom. Your child creates beautiful paintings that you want to cherish forever, but are you running out of ways to hold onto it all? In this blurb, we're going to offer some interesting ways that you can keep and display your child's most special work!
Share their work with our entire school community! Join us at our first annual art show at the Lending Library. The details are included in the community section below. Imagine your child's delight to see their work on display among the work of their fellow Cottonwood students. They will beam with pride and feel the importance of individual expression. Their art may move someone in an important way as only art can do.
Decorate a wall or designate a special place where their work can be displayed. You can use your child's paintings to decorate an entire wall! You can collect frames for each painting, or you can use twine, wire, or string to hang your child's artwork with clothesline clips. You can hang just one piece or several! What's really fun about this idea is that you or your child can change out the artwork as they create new ones, which means you've got a steady stream of fresh and one-of-a-kind art to fill your spaces. By doing so you are telling them that their work is valuable and important. This is a great way to show pride and support for their creative process. You are reminding them and encouraging them to keep expressing themselves.
Make a Photo Album. Creating a photo album or scrapbook is a great way to save your child's artwork without holding on to every single piece. Gone is the guilt of putting their work in the trash bin! You can simply snap a photo of the work and then print these into a book through one of many services that turn your photos into books. You could do this monthly or yearly. One for each child as a keepsake for them to keep for years to come or as books of your children's collective work. They will love to share these with friends and family, and they are transportable and easy to duplicate if damaged.
Give art to family or friends. Your child is proud of his or her paintings, and they should be! Family and friends would be proud and enjoy the experience of your child's expressions, too. If you'd like to share your child's art with family members, you could use his or her paintings as greeting cards or gift tags or postcards. That is another great way to show support and encourage your child to be proud of their creations.
Do you have any unique ideas for what to do with your children's creative artwork? Let us know on our community Facebook page!