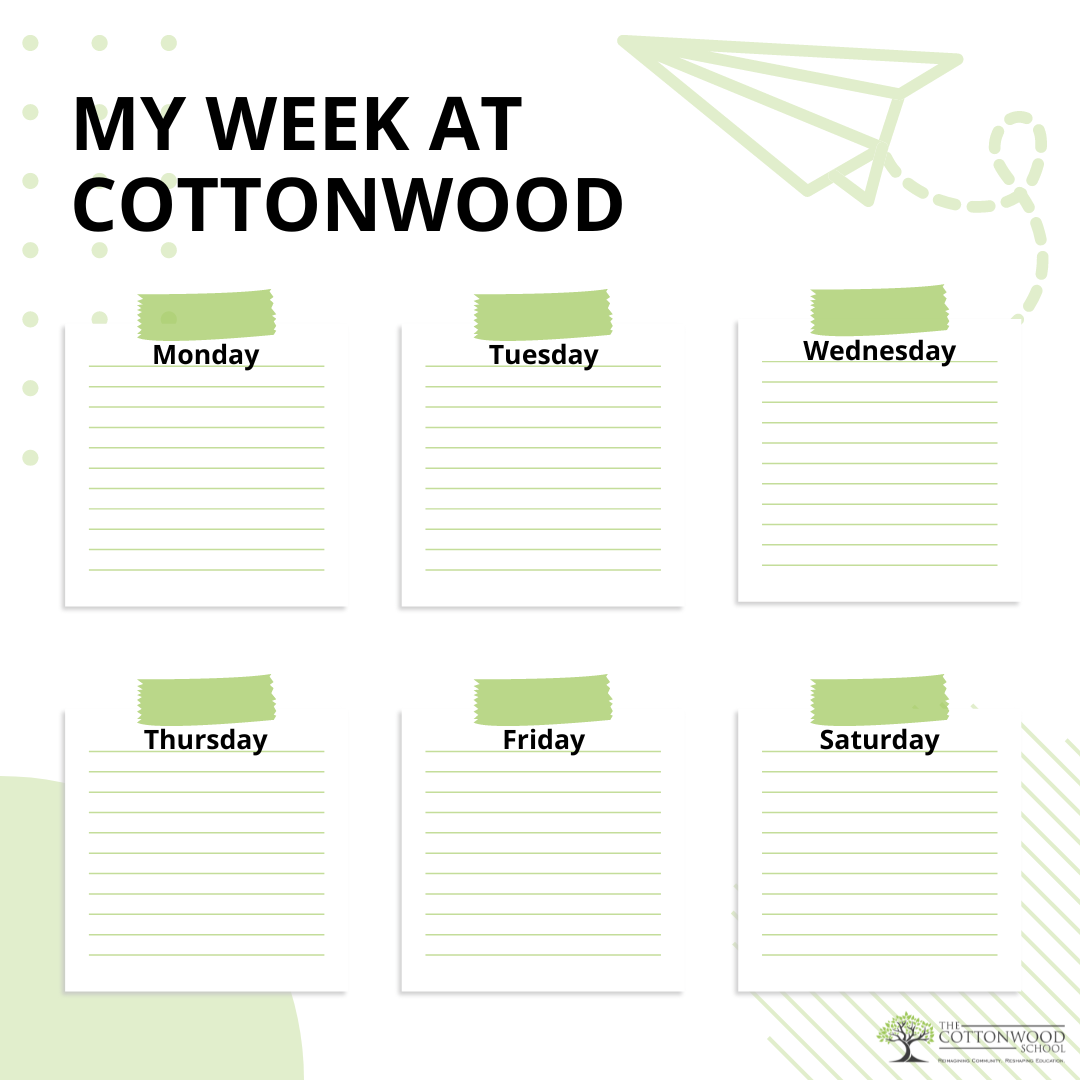 Happy Wednesday, Cottonwood friends!
I can hardly believe we are approaching enrollment/re-enrollment season for next school year when we still have some road left to travel! Stay the course, friends, but… also consider trying new things and mixing it up! While we need to look to the future, let's also tap the brakes a bit. What does the rest of THIS year look like? Despite the rain, or maybe because of the ceaseless showers, my kids are eager to go, go, go! They want to engage with the world and learn in new environments, with new people, and in different ways. They continually remind me to keep it fresh and exciting!
As I prepare our information slides to introduce prospective families to Cottonwood, I am blown away by all of the ways for our Cottonwood kids to connect, learn, and grow. Better yet, the learning comes from outside sources, broadening the people and places they are learning. Are you connecting yourself and your children to all the opportunities that could serve and meet your family's needs? These emails contain so much information that perhaps you've bypassed something you and your children will glean value from! Let's look at "a Cottonwood week at a glance" and see if anything pops out!
A week in the life of a Cottonwood student: Included are only weekly events. There are countless field trips to join every week as well!
Monday:
Mindset Mondays – This is an AWESOME way to start the week. Ms. Lupe Arroyo uses two FREE-to-you resources and guides our students through The Seven Mindsets and Big Life Journal.
Superstar Readers – These early literacy classes are phenomenal, and the kids are having a blast! Try a lesson or two and see if it fits your kiddo well!
Jr High RISE Extended Learning and Virtual Lunchroom – Your RISE students can get extra support from peers and teachers, have social time outside of class, AND play fun games.
Read Aloud & Craft Club at the Lending Library – Bring your early elementary kiddos for themed read-alouds and fun take-home crafts every week.
NEW! Culture Corner – (See MDIP section for more details about this exciting addition!)
Parallel Learning is Coming in February! – Join us in the Community Connect Center. You will have the opportunity to school your kids alongside other Cottonwood families. More information to come!
Tuesday:
RISE Classes – Virtual core classes for our 7 – 12 students. (Second-semester enrollment is still open.)
Boost! – Exciting and engaging enrichment classes in Language Arts and Math begin again next week. (Enrollment is still open for classes with space remaining.)
Superstar Readers
Wednesday:
Mobile Lending Library Park Day – Each week, our Library Van delivers books that have been reserved via our online catalog and collects returns at various parks. Meanwhile, you can connect with other parents and our family liaisons while your kids make new friends and play. The liaisons often bring weekly activities for the kids to make/do!
Don't forget to read your Wednesday Weekly, which arrives in your inbox at 12:30.
Thursday:
Register for newly released field trips @ 12:30 on Thursdays!
RISE Classes for grades 7 – 12
Superstar Readers
Project Prep Day – This is a great day to work on your projects for one of our upcoming events like The Science Fair, Makers Market, and/or International Festival.
Friday:
Broadcast Friday: Writing w/ Ms. Karlie & Math w/ Ms. Nicole (See WiN section for more details on these fun weekly enrichment opportunities)
Connect: El Dorado Hills Park Day – On the 4th Friday of each month, we meet at El Dorado Hills Community Park to play.
Field trips galore: While there are field trips almost every day of the week, Fridays are loaded with activities and trips on most weeks!
I am a visual person; are you? When looking at the list, I saw everything Cottonwood offers in a new way and will rearrange our week accordingly to join in the fun and learning! I sincerely hope you will join me in trying some of our classes and events! My kids and I will see you there!
Kindly,
Kara Parkins
Parent Support Advisor
P.S. As we approach the latter part of the year, you've likely spent most of your funding. Most of these opportunities are free or super low-cost if you are running low on your educational student budget. Look to the chart below and pay close attention to the ordering cut-offs. Get your service orders in now, and finalize your purchases soon!