English Proficiency and Fluency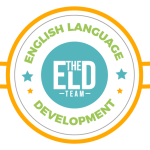 It is our goal at The Cottonwood School to ensure that our English Learners (EL) acquire English proficiency and fluency, and thereby reclassify to English Proficient as quickly as possible. To support language skills, we offer several resources to our EL students. We want to ensure each child is making consistent progress with English proficiency.
We provide weekly classes for English Learners, as well as a variety of resources, including online programs, enrichment activities that support English language development, and preparation for the annual ELPAC testing.