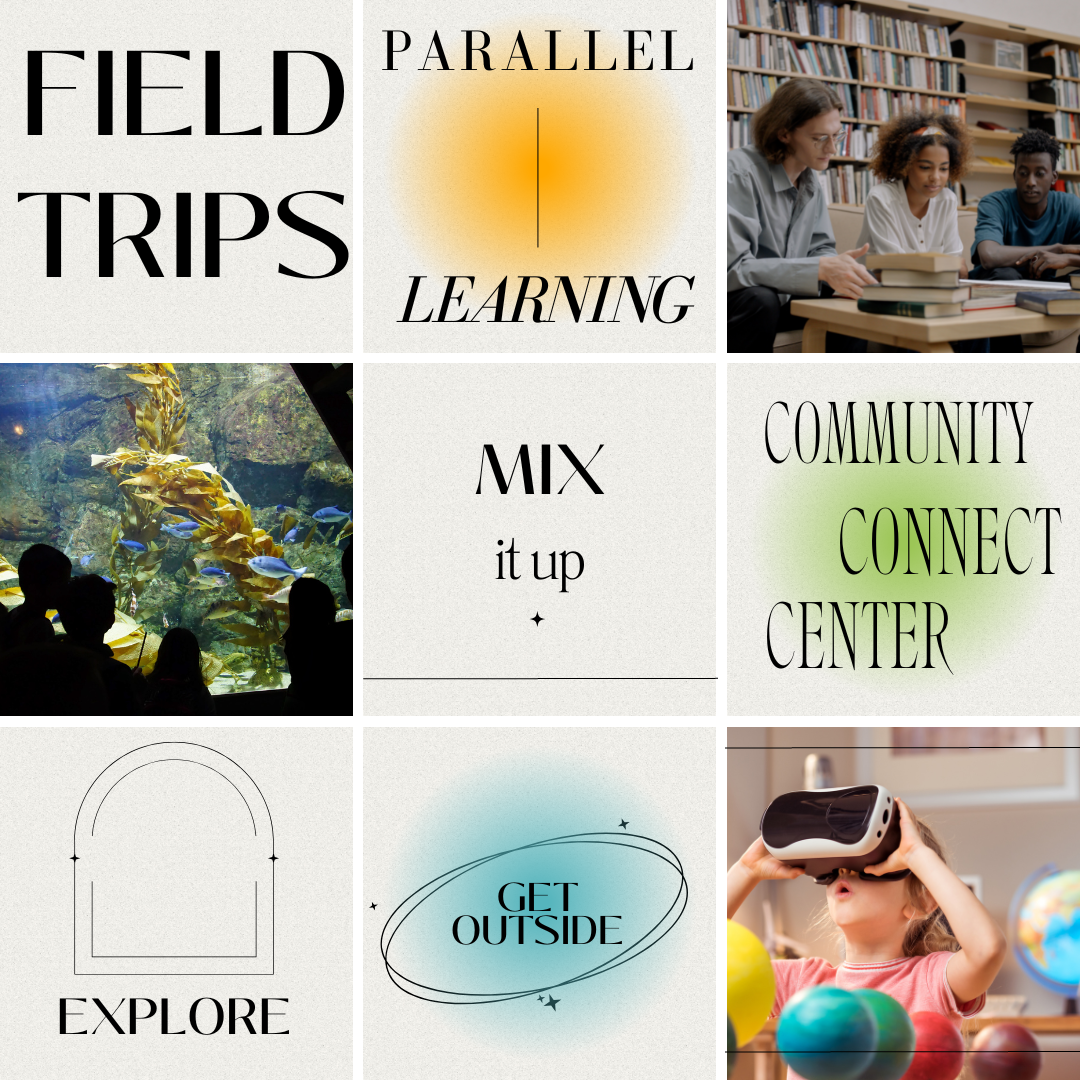 Have I told you yet how great homeschooling is? I'll repeat it if I haven't said it enough in multiple weekly newsletters. Homeschooling is incredibly rewarding and fulfilling. However, it's easy to get into a rut when teaching the same subjects in the same place every day. Mixing things up by changing your setting or going on field trips is one way to keep things fresh and exciting. We have some ideas and plans for you to do just that!
Utilize Community Resources
One way to mix up your homeschooling routine is to utilize community resources. Last week we introduced our new Parallel Learning Time at the Community Connect Center. Parallel Learning Time is a free weekly place to change your scenery and mix up your homeschooling routine. You and your children can also homeschool alongside other Cottonwood families, which is unique and special. (Refer to last week's newsletter for more about Parallel Learning Time.) Additional community resources include museums, zoos, and libraries. These places often offer free or discounted admission for homeschoolers, and many also have educational programs and events designed specifically for homeschooling families. You can also look for local classes, workshops, or clubs that align with your child's interests or curriculum.
Go on Field Trips
Field trips are a great way to break up your homeschooling routine and provide your child with hands-on learning experiences. Next week we will release our final events and field trips for the year. Register for those or go on field trips alone as a family. The opportunities are endless. You can also make a day trip out of it by packing a picnic lunch and spending some time exploring the surrounding area. We have had some unprecedented weather lately, making outings difficult or restrictive. It can be challenging to incorporate outdoor activities or field trips into your homeschooling routine on rainy days. However, there are plenty of ways to mix things up and keep your child engaged, even when you're stuck indoors. Plenty of indoor and virtual field trips are opening for registration next Thursday.
You could also have a themed indoor field trip day, such as a "science day," where you do science experiments or a "culture day" where you learn about different cultures through food, music, and art. Lucky for you, our Cottonwood Science Fair and International Festival are coming up and these themed field trips have been organized for you! There is still time to sign up as participants, and all are welcome to come to enjoy the student displays and demonstrations.
Change Your Learning Space
Sometimes, all you need to mix things up is to change your learning space. If you usually teach at the kitchen table, try moving to the living room or even the backyard. Consider taking your lessons on the road and teaching from a local coffee shop or bookstore OR our Community Connect Center during Parallel Learning Time. Our Lending Library is always available to you as an alternative learning space. Changing your physical environment can help you and your child sees things differently and may even spark new ideas and insights. I know I always learn so much through observing how others homeschool, and so do my children.
Incorporate Virtual Experiences
Virtual experiences have inevitably become part of your homeschooling routine at this point. A whole new digital world opened up in the last few years. Cottonwood has multiple virtual events and field trips in the works for you. These include art, lessons, travel, and more. Many museums, art galleries, and other cultural institutions offer virtual tours and exhibits that you can access online. You can also attend virtual classes or workshops that pair nicely with what you are currently studying with your children. Virtual experiences have come a long way. The Magic School Bus has become more reality than fiction. How fun is that?
Mixing things up is important to keep you and your child engaged and excited about learning. You can keep your homeschooling routine fresh, fun, and engaging by taking advantage of outdoor spaces, utilizing community resources, going on field trips, changing your learning space, and incorporating virtual experiences.
Kindly,
Kara Parkins and the Community Team