A Cottonwood Exclusive Program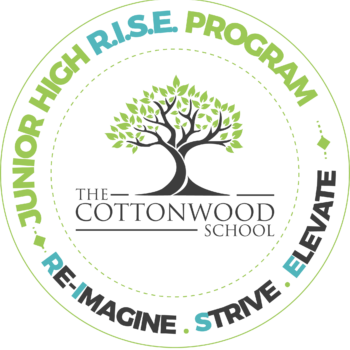 The Cottonwood School's Junior High RISE program reimagines and elevates the home study experience and strives to build community among our junior high students. This academic program offers live, virtual instruction in Math, Language Arts, and Science for students in 7th and 8th grades.  We understand the challenges often faced by students in middle school go beyond academic coursework.  During these years when children begin evolving into young adults, social and emotional concerns are especially important.
We carefully crafted our Junior High RISE program to meet not only our students' academic needs but also their social and developmental needs by offering our home study students the opportunity to learn in community.  Our focus on engaging course content delivered through twice-weekly, direct instruction supports students to succeed on all levels.  Interaction with their peers, teacher-guided discussions, project-based learning and local meet-ups and field trips are woven into the fabric of our courses and approach. The goal of our program is for our junior high students to develop their own sense of agency, build a growth mindset, and take ownership of learning, preparing them for a successful high school experience.